Rabbi wants to reach out to every Jew in Elgin and beyond
LAURA STOECKER | STAFF PHOTOGRAPHER 
By Elena Ferrarin, The Daily Herald
Rabbi Mendel Shemtov says his goal is to meet every Jew in Elgin.
That might be a few more people than one would think; there are an estimated 2,000 Jews who live within a 15-mile radius of the new Chabad of Elgin & Hoffman Estates at 30W509 Shoe Factory Road.
Shemtov, who has been running the Jewish center since it opened this summer, is aware many Jews in the area feel isolated.
"Everyone says they're the only ones," he said, "but we tend to find more and more every day."
Chabad is an acronym for the Jewish words "knowledge," "wisdom" and "understanding," Shemtov said. The Chabad-Lubavitch movement was founded in Russia about 250 years ago. Jan. 6 marks the 200th anniversary of the death of movement founder Rabbi Shneur Zalman of Liadi.
Both Jews and non-Jews are equally welcome, although this form of Judaism might not be for everyone, Shemtov acknowledged. The rabbi doesn't touch members of the opposite sex, and men and women are divided by a partition during services.
"I have no problem with someone who doesn't agree with that. They can still come to classes if they don't want to come to Chabad services," Shemtov said.
About 60 people attended the Hanukkah celebration earlier this month. Between 10 to 15 attend weekly Torah classes for adults, and up to 20 people attend services on Saturdays. The Shemtovs — which include his wife Shterna, and their children, Levi, 21 months, and Chaya Mushka, 7 weeks — would like to start Friday night dinners and eventually Torah classes for children.
"We don't come with a detailed plan. We know what we'd like to do but we have to get to know who's here and what they want," he said. "Anything that people want to see in a Jewish center, we are ready to offer."
The center occupies about seven acres of a 77-acre property owned by Carol LeRoy.
LeRoy, who lives on the property, said she invited the Chabad to move into a building that used to house another Jewish congregation that disbanded around 2010. Her late husband Robert always wanted a Chabad there, she said.
"I love the organization, I love the things that they do," she said. "They make Judaism enjoyable to people. I don't know how to explain it. They are nonjudgmental, they don't care if you keep kosher or if you don't, if you're reformed or Orthodox — everybody is welcome. They want you to enjoy Judaism and Jewish life, and they teach about it."
Shemtov, 26, grew up in Ohio and studied in Israel before moving to Brooklyn, N.Y. This is his first permanent position after having spent summers traveling across the country to small communities without full-time rabbis.
"It's a very big responsibility," Shemtov said. "It's the responsibility of a Jewish community. The reward is awesome. Seeing the smile on their face when someone is able to practice their Judaism and really express who they are, that expression is priceless. It's really our life mission; it's how we were brought up."
Chabad services are at 10 a.m. on Saturdays, with a special gathering that includes lunch on the first Saturday of the month. Torah classes are Tuesdays at 7:30 p.m.
For more information visit the center's website at elginchabad.com or its Facebook page, or call (847) 440-4486.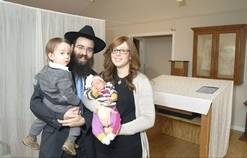 Shemtov, with his wife, Shterna, and their children, Levi and Chaya Mushka. 
Rabbi Mendel Shemtov and his son, Levi, 21 months, read in the room where classes are offered for adults and children at the Chabad of Elgin & Hoffman Estates.